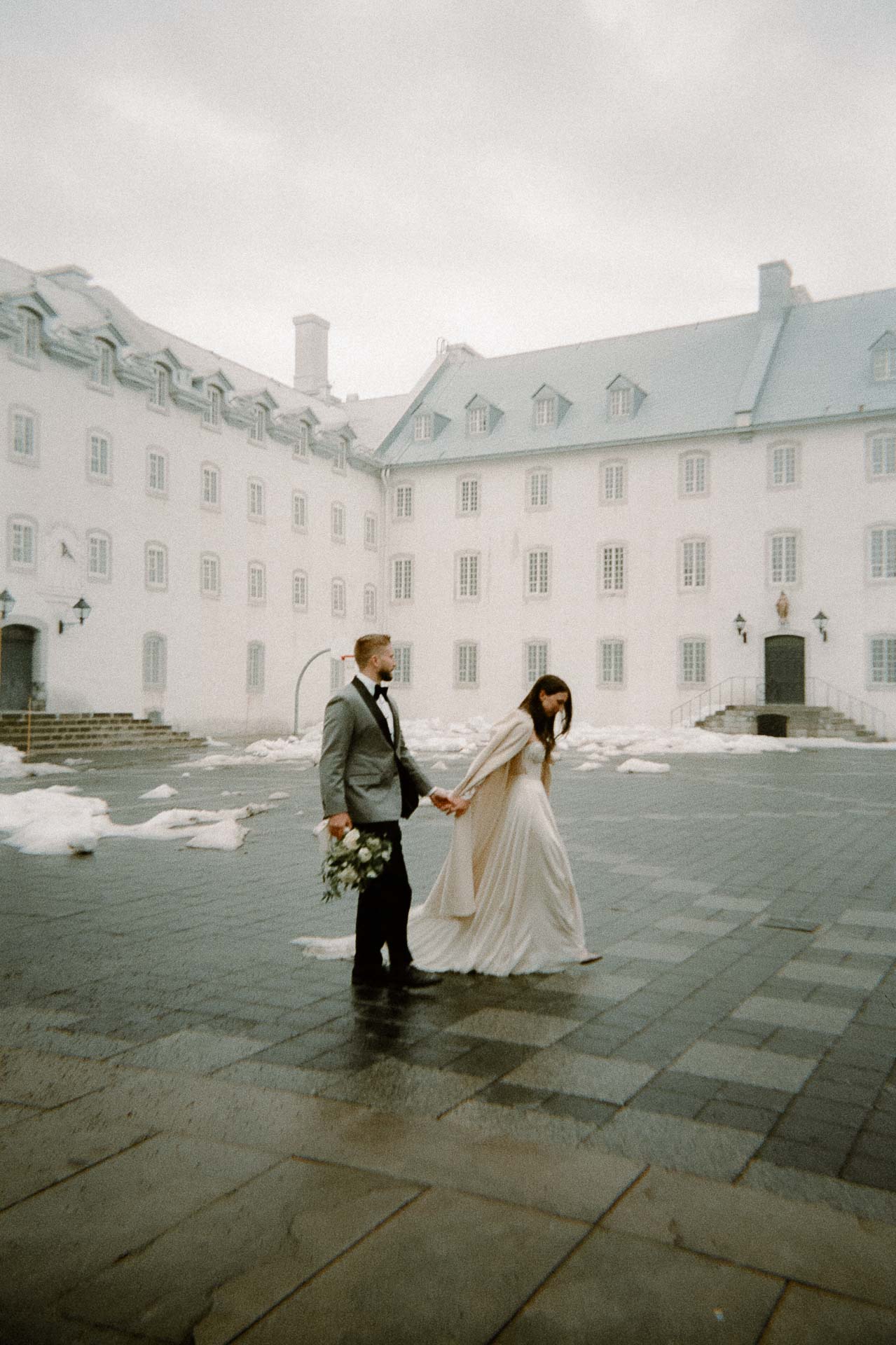 Elegant spring wedding in Quebec city
Meeting in a bar in Sherbrooke wasn't the most glamorous to meet according to Catherine and Kevin. But here they are finally exchanging 'I do's' and are on their way to embarking on one of their greatest adventures – marriage. Meeting through a common friend, the first thing Catherine said was as long as your name is not Kevin, it's fine. It was hilarious and an ironic experience but these two are just meant to be.
This lovely couple, decided to tie the knot in the charming city of Quebec. They chose the Salle des Promotions as their wedding venue, a stunning location located in the heart of the city, offering a picturesque setting for their special day.


The Salle des Promotions is a historic building that has been beautifully restored to its original grandeur. The venue features a spacious ballroom with high ceilings, chandeliers, and large windows that allow for plenty of natural light. The ballroom can accommodate up to 300 guests, making it the perfect location for Catherine and Kevin's grand wedding reception.


Catherine and Kevin, who wanted to have a romantic and elegant look for their wedding, decided to decorate the space with soft pastels and lots of flowers. They also took advantage of the beautiful and historic surroundings of Quebec City for their wedding photography. They did their first look in the picturesque courtyard of the Séminaire de Québec, located just a short walk from the venue.


The Séminaire de Québec, a historic seminary dating back to the 17th century, is known for its stunning architecture and lush gardens. The tranquil courtyard provided the perfect backdrop for Catherine and Kevin's romantic first look, surrounded by towering stone walls. They took a stroll through the courtyard, taking in the beauty of the space and enjoying a moment of intimacy before the hustle and bustle of the ceremony and reception.

Overall, Catherine and Kevin had a beautiful and memorable wedding day at the Salle des Promotions. The venue's elegant ballroom, outdoor terrace, and the nearby historic sites like the Séminaire de Québec, offered endless possibilities for creating beautiful memories of their special day.
Dress: Lilia Haute Couture
Suit: Surmesur
Flowers: Prune les fleurs
Hair: Kim Mcgillis
MUA: Marie Maxime
Video: The Yelles
Second photographer: Kristina Bastien
Catering: Deux Gourmandes
Cake: Lafleur Sucrée
Band: Tone Call
Venue: Salle des Promotions
Hotel: Hotel Manoir Victoria